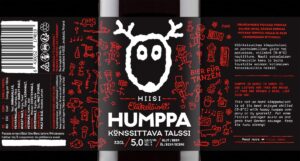 Beverage: beer
Brewery: Hiisi
Band: US!
We put our heads together with the Hiisi brewery from Jyväskylä and made some humppa. The result is a tasty easy-to-drink, easy-to-dance beer made in Finland. The strength of the drink is 5%, one percent for each of the master musicians in our band.
The first pints will be poured in Joensuu's 60ś palaver pub on September 1. at 6 pm and after that you can get drinks from somewhere else and probably also from shops, but we don't know where yet. We will announce on social media and we will also list pleasure and shopping places here as soon as we get information about them.
The brewery is working on to export this tasty drink so hopefully this will also be available outside Finland.
Humppa is or have been available:
Jyväskylä
HIISI Taproom & Bottleshop
Tanssisali Lutakko
Harry's
Sohwi
Jalo
Unelma Happy Bar
K-Citymarket Palokka
K-Citymarket Seppälä
K-Citymarket Keljo
K-Supermarket Länsiväylä
Prisma Seppä
Prisma Palokka
Prisma Keljo
Mestarin Herkku
S-Market Tourula
S-Market Kolmikulma
S-Market Kuokkala
S-Market Vaajala
S-Market Savela
S-Market Muurame
S-Market Jämsä
Helsinki
Stone's
William K Kurvi
Hemingway's Tennispalatsi
Tower Craft Beer
Espoo
Taproom D20
Turku
K-Citymarket Kupittaa
Tampere
Ukkometso
Kerava
K-Citymarket Kerava
Lohja
Deli Bakers
Joensuu
60's Palaver
K-Supermarket Rantakylä