12.3.2021 our first release Humppakäräjät and the superb 2008 album Humppa United (with d-side bonus tracs from  Ukki, Mitä oli jenkka? EP) will be first time out on vinyl.

We recommend you to buy these from your local record store with that nice but a bit strange person behind the sales counter or from our humppa community web stores:
Our web shop, the lovely  Jokisen Valinta is happy to serve all customers with many needs of Eläkeläiset humppa gear and merchandise.
Stupido Records web store is superb to serve customers with special needs for indie Finnish punk and contemporary rock.
CPL-music store is run by our German record company dude and will serve you fast and trustly with cheaper shipping costs if you are living there where you do not drown in snow and freeze at the moment.
Best thing. From all above mentioned shops you can order these great brand new retro vintage hand printed shirts and tote bags (printed by Pekka, our shop keeper an designer and the master who took this blurred photo:)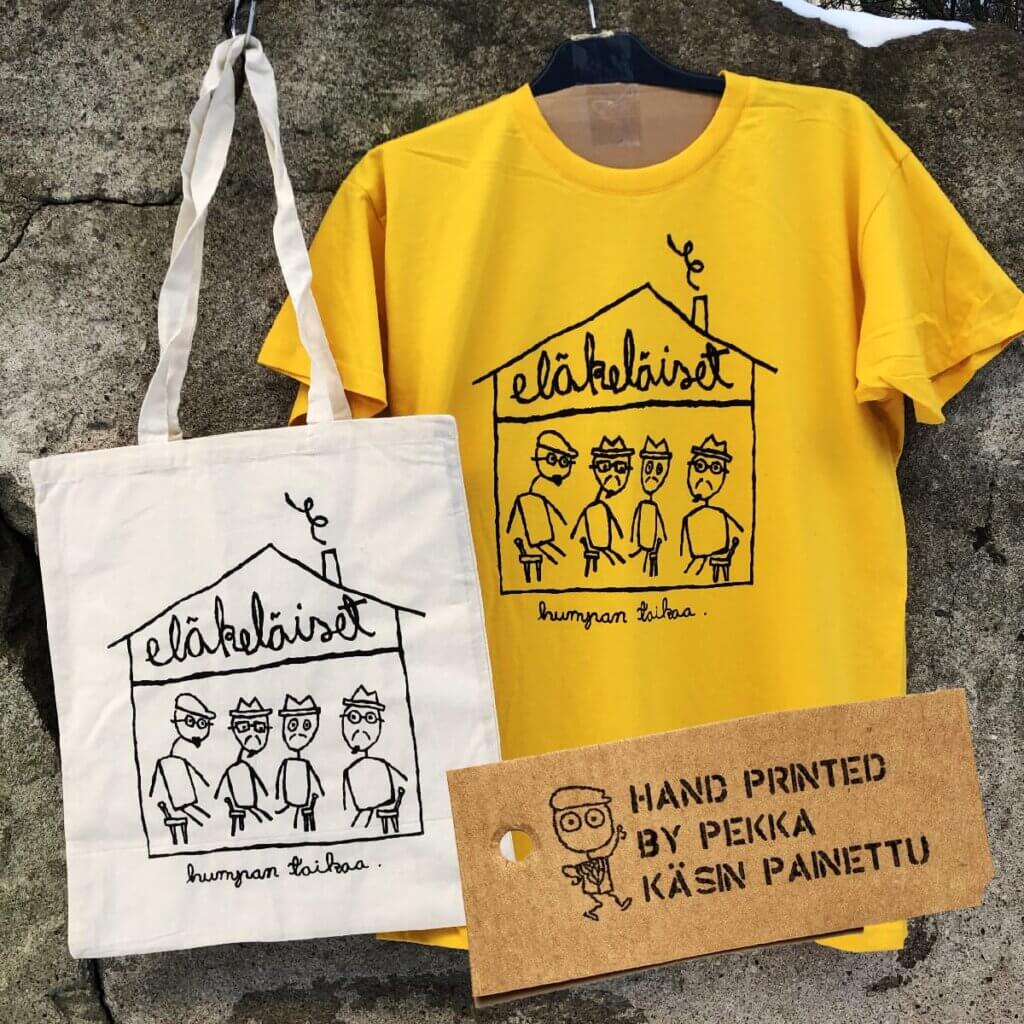 Discount bundle prices are shirt 15€ and tote for 5€ (without vinyls 20 & 5)  are valid until the vinyl release day 12.3.  After that them are for sure available at our web shop.
Humppakäräjät is on gatefold cover + 2 side inlay with yellow vinyl, Humppa United is double album white vinyl in simple covers + an inlay.
These releases are done as best as we can. The vinyl sound mastering is done by Mika Jussila at Finnvox who also did the mastering for the original CD-releases. For the covers we used the original data and if needed and available we scanned the original drawings and photos. (Humppakäräjät cover photo is blurred as we did not want to sharpen digitally the only original file we had available).
By the way, here is the original drawing with the new shirt and totebag: