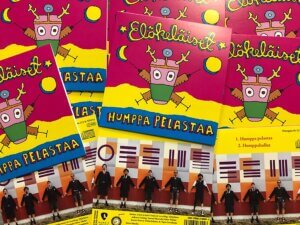 Our latest single includes the songs Humppa pelastaa (Humppa Saves) and Humppahullut (Humppa Lunatics)
Humppa Saves is an awesome song and it tells about us. Humpa Lunatics is also an awesome song and it tells you oh dear humppa fans.
You can find it on streaming services. The physical single is a cardboard cover CD and it is only available from Our great web shop, some record shops in Germany and from CPL music web shop in Germany  and in August also from hump gigs as long as it doesn't sell out right away. There are only 250 records on sale, of which 100 went to Germany, which means that the domestic edition is only 150 copies. Order a single from Jokinen!
Joonas Tuurala made a great animated video for Humppa pelastaa. Enjoy!