Hi! See us 360 degrees from our last Helsinki gig!
More to be come here later. And Apple do not support the format so Safari browser or iOS devices do not rock.
Juha Kiviharjun is releasing an experimentary documentary Humppasin kerran Moskovassa about us and him on his YouTube channel. The teaser is here:
Badges for free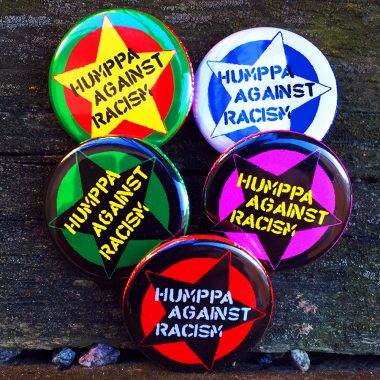 Just to say this natural thing out loud we are giving 300 badges out for free. Most of them are gone on our gigs but there is still some left and if you order just whatever from our web shop you will get one random colour for free as long as the stock lasts.
Summer gigs–only in Finland this year:
09.07. SF, Korpirock, Tommolan suurlava, Mäntyharju, FB event,  OSTA LIPPU
10.07 SF, Aitoo, Kirkastusjuhlat
23.7.2016 SF, Hämeenlinna, Wanaja festival
30.7.2016 SF, Down By The Kemijoki, Rovaniemi
05.08 SF, Seinäjoki, Vauhtiajot
06.08 SF, Mikkeli, Jurassicrock
12.08 SF, Lieto, SmugglerRok
13.8.2016 SF, Somero, Esakallio