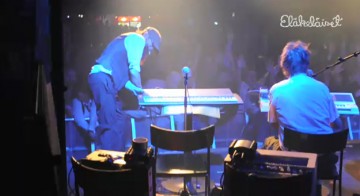 This is the  video update of our X-mas calendar 2010. The films are in YouTube but you can see them only if you know the link that will be released here at humppa.com every morning. Naturally you can release the link on your web page and spread it as much you like if you dare.
This is fresh footage from Helsinki. Our camera crew was having a "coffee" break and naturally Onni decided to get rid of his instruments on that time. Luckily Mr. Tomi Yli-Dokari had his camera ready so you can see what happened during Haulikkohumppa.
In the start you see the gentleman (Lamppu Laamanen) who did what all of you should do if you have keyboards that lay unused. Mr Laamanen contacted us about 6 months prior to the show that he would like his keyboards delivered to the eternity with some dignity and Onni really is the right man to take care of it. See the results here.